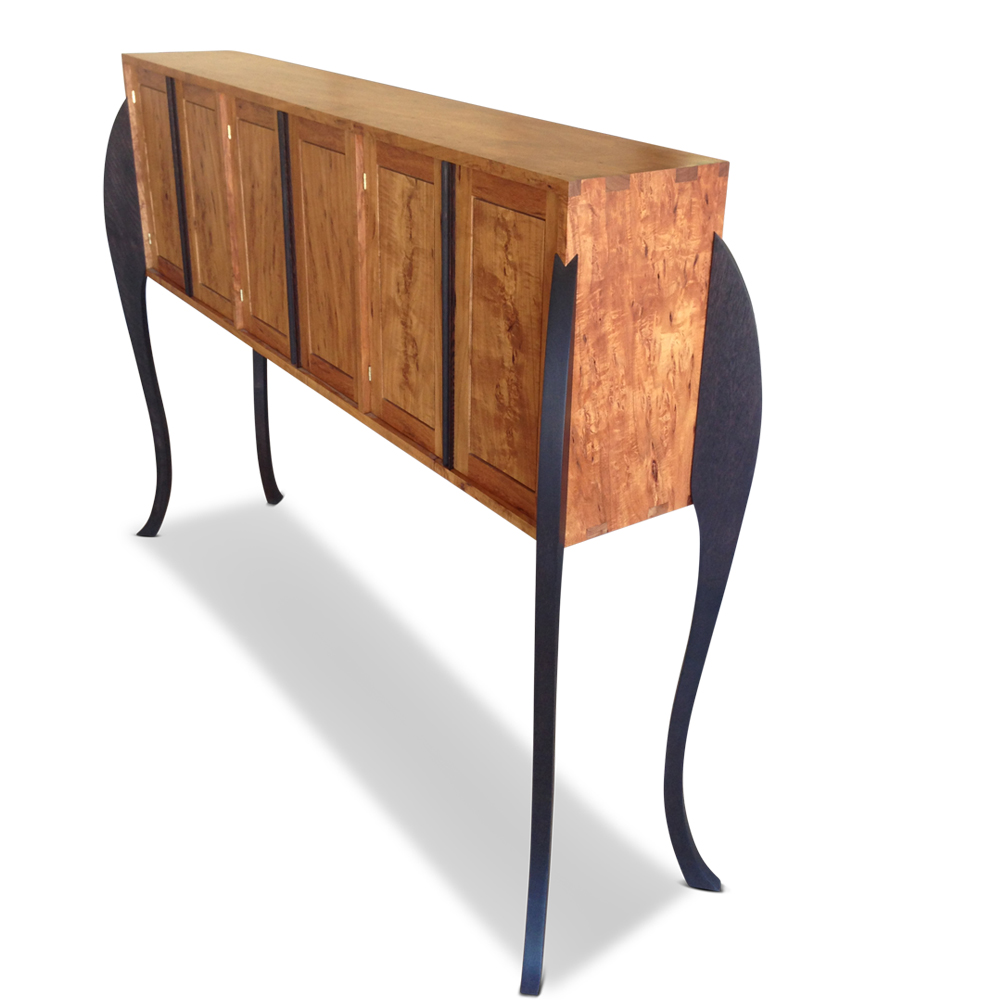 An elegant modern mid-century inspired cabinet designed and handmade from figured Tasmanian Blackwood by Will Marx.
Featuring 3 sets of doors that open easily to expose generous internal shelving that is adjustable and removable. The door handles are all handcrafted from Wenge to taper into a "fin" that allows for easy grip. The handles are made from Wenge to contrast with the deeper rich grains of the Tasmanian Blackwood body.
The doors close shut on embedded magnetic buttons to ensure that they always clasp shut delicately but securely. The exterior design is finished with elegant lines and the legs are hand moulded to gently taper and curve
As each new piece is personally made to order by Will Marx, the dimensions and materials are fully customisable to suit your home, office or business to reflect your personal style and interior.
With over 25 years of furniture making experience, Will uses only the finest materials and techniques to create pieces that will become cherished heirlooms and investment pieces for years to come.
Every bespoke piece of work is accompanied by an Artist's Bill of Sale and a Certificate of Authenticity signed by Will Marx certifying that it is an authentic creation designed and handcrafted by the artist himself.
Worldwide shipping is available. Please note that for international shipping, airfreight and sea freight options are available.
With clients in Australia, United States, England, Europe, New Zealand and Asia, Will is highly experienced in international freight and logistics, thus ensuring that your bespoke private commission arrives safely without fuss or damage.
Every furniture piece comes with a 10 year warranty on construction.
Matching furniture can also be designed and constructed to complement this piece.
Please also visit our FAQ page to find out more about the commissioning process.
If you are interested in having custom made fine furniture designed and made by Will Marx for your home or office, please do not hesitate to contact Will on [email protected] or +61 7 3348 2170.
If you are seeking a Custom Furniture Maker Sydney, Custom Furniture Maker Melbourne, Custom Furniture Maker Brisbane, Custom Furniture Maker London, Custom Furniture Maker China, Custom Furniture Maker USA, Custom Furniture Maker UK, Custom Furniture Maker Australia, Custom Furniture Maker Europe, Custom Furniture Maker Asia, Custom Furniture Maker Dubai or a Creative Custom Furniture Designer / Maker for delivery to any location worldwide, Please contact Will to discuss your requirements.
Stay In Touch on Social Media:
~ Website: www.willmarx.com.au
~ Instagram: https://www.instagram.com/willmarx.com.au/
~ Facebook: https://www.facebook.com/willmarxfurniture
~ Pinterest: https://au.pinterest.com/willmarxdesign/
~ Twitter: https://twitter.com/willmarxdesign
~ Google+: https://plus.google.com/u/1/102863595609951230472